Developing Change: How a Tech Project Enabled Organizational Transition
---
Bonnie Gordon, Patrick Galligan and Hannah Sistrunk
Digital Programs Team, Rockefeller Archive Center
Values
Engage and empower users
Respect researchers' privacy
Support broad and equitable access to archival materials
Build networks, not silos
Practice intentional communication
Learn constantly by taking strategic risks
Invest in yourself and the profession
Project Electron
Infrastructure to acquire, manage, preserve, and facilitate access to digital records
Project Values
Create reproducible and modular deliverables
Place users at the center of the design process
Support archival practices and standards
Support data in motion
UX Activities
Card sorting
Personas
Scenario Mapping
Usability Testing
Aurora
Web application to enable the transfer, appraisal, and accessioning of digital records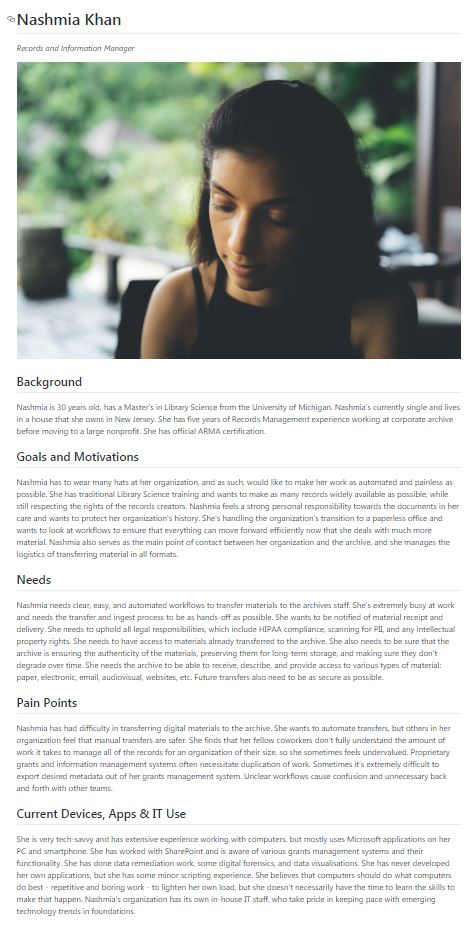 Creating Personas
User stories
Card sorting activity
Twelve personas in four user categories
Scenario Mapping
Group activity using personas
"Map" of user steps to accomplish a task
Essential for development decisions and UI design
Step - Question - Comment - Idea
Aurora Usability Testing
Lightweight DIY approach
Two rounds of iterative testing
Engage and empower archival staff users
What It's All For
Collaboration and engagement
Value diverse domains of knowledge
Break down barriers around tech and digital work
Support sustainability of infrastructure
Collaborative Data Modeling
My Role
Data Concerns and Modeling
Systems Integrations
First Steps
Little prior data modeling experience
Knew we wanted to collaborate
Creating a bibliography
Introducing Data Models
Interactive learning sessions
Cross-team groups
Common Ground
Try some wine?
Modeling needs
Group work
The RAC Model
Building off the work of others
Preliminary internal draft
Back To Drawing!
More hands-on sessions with different groups
Informal user testing
Three tasks
Model the data from a single finding aid
Model the data and relationships between the three finding aids
Model the data from two finding aids in relation to an agent (John D. Rockefeller Jr.)
What We Learned This Time
Coworkers want different ways to find information
Break the mold of traditional discovery
Users might not think about data the same as us
The Finishing Touches
Finalize and Serialize
Ask community for comments
Share out
What It's All For
Modeling isn't scary!
Increasing importance of working with data
Greater understanding of our work
Context
New systems, new processes
Some previous digital accessioning
What will our staff need?
Skills
Existing frameworks, like the DigCurV Curriculum Framework
What tools will be used?
What will processes look like?
Skills
Digital preservation principles & the role of digital preservation tools
Technical metadata & its role in managing digital objects in a repository
Archivematica's role in the digital preservation environment
Machine-actionable rights statements
Roles
What are the current roles in accessioning?
What will those roles look like?
Roles
Archivist or manager working with donors
Manager accountable for accessioning
Archivist overseeing accessioning
Archivist assisting accessioning
Resources
What external resources are available?
What internal resources are necessary?
How it Went
Not entirely according to plan
Staff felt they had acquired listed competencies
Overall a success
Important Lessons
Transparency
Diverse Perspectives
Dismantle barriers
Support new skills
Strength through collaboration
Talk to us!
Bonnie Gordon @sosinister
Patrick Galligan @p_galligan
Hannah Sistrunk @HaSistrunk